Archive for March, 2008
---
Google released a beta service today called Google Checkout Shopping Cart. The cart is a very simple javascript based cart that integrates into websites and the Google Checkout payment service. The entire cart uses a new shopping cart API and only needs a few lines of code on a website.
The checkout process uses the existing Google Checkout system.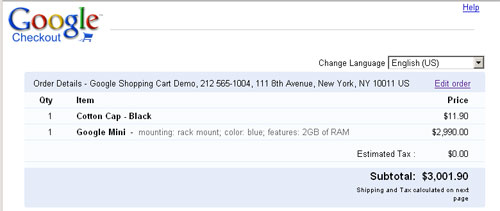 This cart looks to be an extremely easy way for websites to add shopping cart and payment functionality. It looks like it could be customized as much as a website would want, but seems to be a better fit for websites wanting to sell only a few items.
I think that this could really help Google push their checkout service, as it has all but died since they gave up their free incentives.
Some Google shopping cart links:
Google shopping cart demo
Getting started with Google shopping cart
Shopping cart API documentation
Shopping cart customizing
Shopping cart FAQ's