Who are you sharing your customer data with?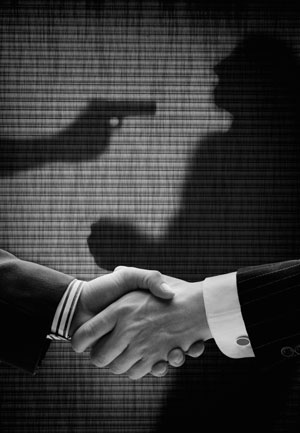 I see new products and services from large retailers and large online companies all the time. Sometimes these services can be extremely helpful to the ecommerce website owners. Services such as product reviews, facebook or social media widgets, customer feedback, additional payment methods, etc., can help small websites look more authoritative and help build visitor trust. It's trust that gets your customers to purchase from you, just as much as the prices you sell your products at, right?
The internet and the companies that we routinely see operating on it have become such common names that most of us hardly stop to consider how these companies that we trust make money, and what they do with the information that we give them. When we're talking about information on a personal level, the potential loses are fairly low if some company decides to use or share our data with others. Facebook, Google, MySpace, Linkedin, Twitter, Amazon, Walmart, Target, and just about any other major player on the internet uses your personal information in some manner. Most of the time, the worst thing that could come from misuse of your information is increased spam email or targeted advertising directed to get you to buy some product. When we look at the same information privacy scenario from a business perspective, the repercussions of sharing your information can be severe.
Small business owners need to be vigilant in who they share their data with!
I've personally talked to more than handful of website owners who watched Amazon become their biggest competitor after they launched a successful Amazon.com business. I've heard of elaborate buying schemes with lawyers, accountants, and capital firms, even involving publicly traded companies, just to get a crack at some successful company's marketing and analytical data. It's sometimes hard to see the value in data but it's there. Facebook was valued at nearly $50B ($50,000,000,000) just a few months ago, when as a company they make less than $1B per year in revenue. Just think about that…
Unlike personal information that sellers would use to sell you products, your business's information can be used to compete against you. It can be used to out compete you. It can be used to steal your customer and lead sources. It can be used to figure out how your SEO campaign gets links. How your PR company promotes your business. Your data may only be giving you a snapshot of how you got your customers. It will give another company a playbook on how to steal your customers.
Now, just because you currently trust one of these companies and use a service that collects data about the way your website works and the way your customers work, doesn't mean that you are going to have a MyProducts.SomeOtherCompany.com website popping up in a week. What it means is that before you add some global script to your site like Google analytics, or Shopping.com tracking, or an affiliate tracking script, or join a product comparison site, or anything else, you should be damn sure you understand what that company is going to do with your data.
I've been running ecommerce websites for nearly 10 years, and something that I can tell you with 100% certainty is that the knowledge, the experience, the information and data you gain in creating a successful online business, is as important as the business itself. It's one thing to trust a company with your personal information. It's entirely different to trust them with your business information, especially if there's any chance of them competing against you.
Small businesses need to be careful with whom they trust with their customer information!
A few weeks ago, there was a major breach at a massive email marketing company. Citigroup, JPMorgan Chase, U.S. Bank, Barclays Bank, Best Buy, Hilton WorldWide, Marriott International, Disney Destinations and The College Board were among the clients that lost their customer information in the data breach. While there wasn't any loss of credit card or other highly sensitive information, there was a loss of names and email addresses. This creates huge avenues for phishing fraud, and is a huge blow to the integrity of these corporations.
The difference between these giants and the rest of us, is that they can easily withstand a data breach. They have the money and PR budget to survive and in many cases these companies are so big that their customers don't even have a reasonable alternative to switch to. Unfortunately this is rarely the case for small businesses. A good percentage of businesses that suffer a data breach from themselves or due to a 3rd party go out of business, some are forced to sell, all suffer nearly-irreparable damages. The bottom line is that most businesses cannot afford a major data loss neither in names and email addresses nor in a more severe case like credit card or banking information.
In cases like Epsilon it's hard to fault the companies whom had lost data. If they trusted Epsilon with their information, there's a good chance that Epsilon was pretty secure. Business owners should nonetheless be diligent in any partner's security practices and certifications. This would include PCI and other industry security standards and would include making sure the company you are giving data to has a solid and logical data security policy. It also should be clear if they share the data you provide with 3rd parties, for security sake and for the above reason.
Data, while intangible, may be the most important asset of your company without you even knowing it. Take a step back and make sure that you trust whomever you share it with, and make sure that you aren't providing a new competitor with an avenue to compete or to put you out of business.
Enjoyed reading this post?
Subscribe to the
RSS feed
and have all new posts delivered straight to you.