Something you should never do
I need a new belt, so I went to a few department store websites to find one. The first one I stopped at: Macy's, gave me a glimpse at what I think could be the worst practice I have ever seen an ecommerce website use.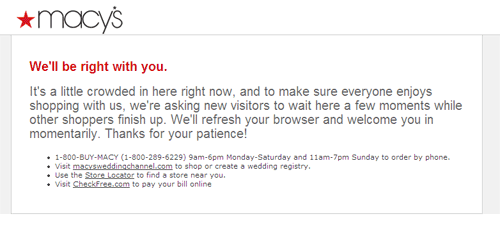 Does Macy's really think that they are so important that I will wait, just to see their website?
They without question lost this sale, and if for some reason they think that this doesn't reflect negatively on their retail presence as well, they can think again. I can understand a website being down, or messed up, or slow, but asking someone to wait until some other shopper leaves, is ludicrous. I think that Ticketmaster is the only other ecommerce site that can top all others in poor usability.
Please don't ever do anything to hinder your customer's ability to simply view your site. This includes intro pages, required registration, full-page advertisements, and now waiting for other shoppers to leave.
Enjoyed reading this post?
Subscribe to the
RSS feed
and have all new posts delivered straight to you.