Treat your customers well, your repeat customers better
An example of really bad customer service…
I had to purchase some hard drives for a server few months ago. Due to the nature of the setup, I needed to get the exact same drive models that were currently being used in the server. I went to one of the companies that I routinely purchase products from and placed my order for 2 hard drives. The next day I received an email from the company stating that they could not ship my order because my Paypal address was unconfirmed. Having moved 1 suite down the hall (about 75 feet) in our office building I explained to them that we were in the next office down, and that I didn't want the drives to get delivered to the previous suite…
Well, it didn't matter that we have bought thousands of dollars in server and computer hardware in the past few years, or that the address was 1 suite number down the hall, or that I actually called them. They would only ship to a confirmed address which lost them my order and possibly my future business.
This cost them $10, and they probably lose 20 more orders from me over the next 5 years.
An example of really good customer service.
I own a number of fish tanks, and I purchased some supplies including a very low cost automatic timer from a well know online pet supply retailer around the same time as the hard drives. The timer didn't work properly, and in the midst of a busy schedule, 9 birthdays, 2 business trips, and 2 vacations I forgot to contact them about getting it replaced. Finally getting around to it, I read their return policy and it understandably said I needed to return the dysfunctional equipment to them. Since the shipping would cost about the same as re-purchasing the item, I gave them a call and asked if I really needed to send it back… Ah, I found out that I was past the refund point by a month and a half…
Even so, they decided to replace it for free and they didn't require me to send back the broken one. This is what I call above and beyond customer service, and it's guaranteed that next time I need something for one of my aquariums, they're the first place I'll stop.
This cost them $10, and they probably get 20 more orders from me over the next 5 years.
These are polar examples of a very important concept… Your existing customers are not and should not be treated like a your new ones!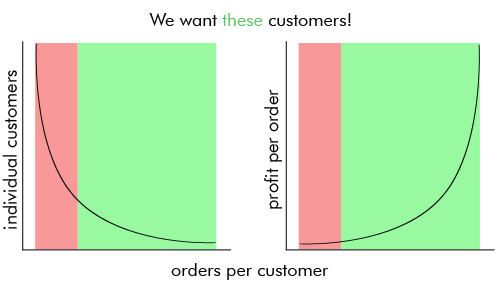 It's a well accepted principal in marketing and business in general, that your existing customer is easier and cheaper to sell to than a new customer. Additionally for ecommerce, selling to your existing customer poses a significantly lesser security and fraud risk than any new customer, especially in a case like this where the customer has placed several orders over several years.
If you want to create a remarkable online business, create the best experience for new customers, and make it even better, easier, and more efficient, for repeat customers.
There's no reason to assume all customers should be treated the same. The majority of shoppers only place one or two orders with a website (Unless we're talking about someone like Amazon). For this reason, you should make it as easy as possible for repeat customers to order from you, and you should give first time shoppers reasons to come back. It's significantly cheaper to entice an existing customer to make another purchase than to go out and find a new customer.
If you think you're significant enough that most of you shoppers wont go somewhere else if the price or service is much better, think again.
The real reality check…
Sure my business is insignificant in the long run. Ewiz may have only made a few hundred dollars in profit from me over the past few years. However, assuming that this blog gains no popularity or traffic over the next year, somewhere around 150,000 people will have the opportunity to read this article on my insignificant little ecommerce blog. 150,000 people will know that Drsfostersmith has outstanding customer service and ewiz's customer service absolutely sucks. That's 150,000 people, possibly current customers that could decide to shop somewhere else, or in Drsfostersmith's case, 150,000 people that could decide to make their first purchase…
Enjoyed reading this post?
Subscribe to the
RSS feed
and have all new posts delivered straight to you.